Turn water into soda in seconds!

<
I am so grateful to have been given the chance to review the Soda Stream. This was one of my favorite reviews I have done in a while and might I say quite tasty too! I must admit when I first open the box and pulled out all of it's contents I was a bit over whelmed,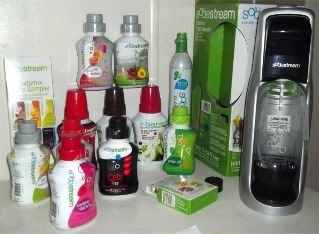 but to my surprise making soda with the Soda Stream is very simple and took 60 seconds or less. True Story! Let me tell you the simple steps and how easy it was for me.
First you fill the reusable BPA free carbonating bottle with cold water to the fill line after you have set up your Soda Stream and attached the CO2 carbonator which is refillable.

No worries set up was easy and took just a minute.
Next push the tilt lever and screw the bottle into the machine.
Now time to add the carbonation! Sounds tough right? Actually not at all. Not only was it easy but fun too! All you have to do is press the carbonating lever in short presses

all the way down

until you hear a buzz. 3 buzzes provides average carbonation. Repeat for extra fizz. Well we are not an average family so we repeat for the extra fizz. I found our family likes 5 buzzes and I think thats the closes we have come to it tasting just like the real thing. Heck this is better than the real thing and cheaper!
Now it's time to pick a flavor. The Soda Stream has so many yummy flavors to choose from such as Regular, Diet, Sparkling Naturals, Energy Drink, Sparkling Tea and My Water Essence Flavors. Soda flavors contain no artificial flavors, no artificial colors and no artificial sweeteners, and do not contain any preservatives, making them a perfect, sparkling, natural soda alternative for the entire family. Click here to check out all of there great flavors. My favorite flavors so far are Lemon-Lime and Root Beer. Choosing a flavor was probably the hardest things to do. We finally came to a unanimous vote and chose orange one of the sample flavors that already came with the Soda Stream. Now add your flavor then screw the cap on and

shake gently

.

The best part comes next. Drinking the soda you just made and we sure did! I think we tried 6 different flavor's in a row that night.
We made about 6 bottles of soda from the Soda Stream before we figured out how we prefer it and how much fizz we liked. Each bottle of flavoring tells you how much to add, and we found with some flavors we like just a little more flavor and others just a little less. So in my opinion when giving it your first go round with the Soda Stream add just a little less flavor and gently shake and taste it before adding the full amount. Oh and it taste better cold.
The Soda Stream is also available at many retailers such as Target, JCPenny, Best Buy, Bonton. Macy's, Kohl's, Staples, Sears, HyVee, Meijer, Costco and so many more. Click here to find a location near you.
You can also buy the Soda Stream online. Just click here to visit there online store.
Did I tell you the Soda Stream requires no battery's or electricity!
No empties to recycle or throw away!
The Soda Steam soda maker is truly earth friendly. It saves the average family over 2000 bottles and cans from landfills each year. Best part is your saving money each time you use it. Make fresh fizzy soda in seconds!

My family truly loved this product and would recommend it to anyone. So far we have use it everyday since we received it. And the first thing the kids say when they walk in the door from school is "Did you make soda from the Soda Stream"!
Not only am I so very grateful to have been given the chance to review the Soda Stream, but I will also be giving 1 away to one of my lucky fans or readers!!!
1 Winner will get a Soda Stream Fountain Jet Soda Lover's Start-Up Kit ($99.95 Value)!
This Giveaway Package Includes:
– Fountain Jet – winner's choice of color (black/silver, red/silver or white)
– 1 carbonating bottle, reusable for up to 3 years
– Reusable carbonator to fizz up to 60L of soda
– Variety 6-pack of popular sample-size flavors
– 3 full-sized flavors of the winner's choice
Giveaway now closed. The winner is:
Tina Fultz-Coleman

Giveaway Rules
One entry per person per household per ip address. You must like Angie's Angel Help Network and Soda Stream on Facebook as well as doing the mandatory entry's. You must click the link above to go to the entry form. You must be 18 years of age or older to enter this giveaway. You must also reside in the US to enter this giveaway. This giveaway is in no way associated or endorsed by Facebook. Giveaway ends 12/31/11 at 12:01am (est) Winners will be posted here on the blog post 1/1/2012 and they will also be emailed. Winners have 72 hours to respond with there mailing info or another winner will be chosen.
I was not paid to review this product from Soda Stream, and all my opinions are my own, I did receive a free Soda Stream and all the items in the photo above in exchange for a review and giveaway.
Disclosure Policy